To us here at SuperCineverse, one of the best things to come out of the creative process involved with creating a film is concept art. And Thor: Ragnarok is no different. They had some of the most talented artists working on the film, including Senior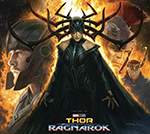 Concept Designer Sean Hargreaves. And now, thanks to Hargreaves, we're able to spotlight some of his amazing work that he contributed towards the creation of the film.
"We were tasked with bringing the Jack Kirby look to life, and it was a task," Hargreaves confessed. "Working with primitive shapes and primary colors. I really enjoyed the film and happy to see the look translated successfully."
For more fantastic concept art, designs and illustrations like the pieces that you see below, check out the new book, Marvel's Thor: Ragnarok – The Art of the Movie.
For more

Super

Cineverse